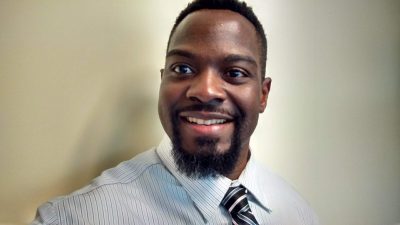 By Clewiston Challenger, Ph.D., School Counseling Program,
Neag School of Education
The Centers for Disease Control (CDC) recently issued updated guidelines for schools for the upcoming academic year. They recommend schools to fully open and students to return to in-person learning. The updated guidelines signal a return to a new normal as it pertains to learning in a school building. These recommendations are in contract to those of the pandemic which forced a national lockdown, disrupting students' learning, and turning homes into classrooms. Though the transition back will not come without challenges, school administrators can ease the transition by utilizing school counselors to advise them on ways to reopen their doors safely and effectively to welcome students back. You see, school counselors and other student support services (i.e. social workers, school nurses, school psychologists, school-based community organizations) are trained to provide counseling services to support students' mental health, wellness, and personal-social development to increase academic performance. As schools emerge from the effects of the national lockdown due to COVID-19, school counselors are poised to serve as consultants and collaborators who can inform the rebuilding process of the school culture while planning for future crisis.
The opportunity within the opportunity
School counselors are boots on the ground-types of practitioners. These practitioners are usually in the halls, moving about the school, mingling with students and staff, all to be in tune with the school climate. This approach of having boots on the ground, creates roots in the ground by skillfully forming collaborative relationships with students, staff, and families. This type of relationship-building approach can help students—and staff—root themselves back into the school culture to feel welcomed and more involved. Counselors and other student support personnel should focus their efforts on students' sense of belonging, resiliency, and their motivation towards school and academics. The opportunity has arrived for school counselors to sit at the table with administrators to offer their ideas on how to redesign the school environment and student achievement.
School counselors need to innovate to motivate
Transitioning to remote learning, for many, was cumbersome and inconvenient. Constant adjustments were needed to enable remote instruction to moderately garner student engagement, and school counselors were not exempt from this "clunky" transition. Like other educational professionals, school counselors had little to no guidance on how to effectively provide counseling services virtually. So, as in-person learning returns, school counselors need to creatively think about how to motivate students to return to school. A newly designed comprehensive school counseling curriculum should be school-wide, relevant and responsive, as well as inclusive. One that allows students to feel heard and cared for and stimulates academic engagement. It is also important that turf wars between student support services ends, replacing it with a vision of unified services. School counselors should collaboratively work with other disciplines as futurist planning for potential crises and how to deliver services without delay or disruption.
Putting it into perspective
First, it must be acknowledged that communities of color were deeply impacted by the effects of the pandemic and the lockdown in comparison to their White counterparts. Communities of color saw greater rates of illness, death, and financial hardship due to the COVID-I9 virus and the effects of the lockdown. School counselors would benefit from continuing their education around cultural competency as well as diversity training to successfully serve this population. In addition, school counselors should consider focusing on the noncognitive needs of their students which could lead to positive student adjustment, behavior, retention, and graduation rates in a post-pandemic era. More students having a positive outlook in these areas could lead to higher involvement in the school, community, and their homes.
So, as we return to the classroom in the fall for in-person learning, importance should be placed on providing support for students' mental health and wellness as they reengage in the traditional learning process. School counselors can use the lessons learned from the pandemic to introduce new ideas to create an engaging and inclusive learning environment. We can agree that COVID-19 has changed the landscape of education and has caused us to consider new ways on how to instruct, counsel, and engage our students. There may be long-lasting traumatic effects from the lockdown and remote learning that could have a negative impact how students and staff return to the in-person setting. Research has shown that students have better academic performance and social interactions with peers when they have stable mental health and their noncognitive needs are met. It would benefit school counselors to prioritize addressing these areas to help students adjust to being in the building again. Additionally, school counselors have the opportunity to take on leadership roles in their schools, district, and community to use their influential voice for their innovative ideas on how to increase student involvement in the school and student motivation. These practitioners are best positioned to efficaciously implement these ambitious initiatives due to their specialized training and skillset, cultural competency, and collaborative approach to student and family service. Counselors, let's go to work!