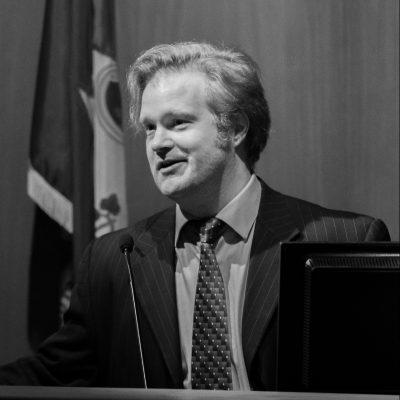 Welcome to the Winter 2022 edition of the UConn ECE Magazine – Transitions: Looking ahead and moving forward.
I hope this edition of the UConn ECE Magazine finds you happy and healthy. When the editorial staff of the UConn ECE Magazine met to discuss the theme for this edition, we all came to the table with the same thoughts – transitions. While the Summer 2021 edition focused on adaptability, this edition's focus is on transitions, which engages with slightly different elements. Transitions are often part of our landscape, they are part of how time marches on, we set course within them, and they affect who we are. Transitions can be purposeful, predictable, or they simply happen to us. It is what we do in that transition that becomes meaningful. These tests reveal our character. Do we lean into the challenge? Do we walk away? Or worse yet, as Dante describes in The Inferno, do we just give up on our principles and follow the breeze, because it is most convenient and/or expedient?
We wanted to dedicate our thoughts to the theme of transitions because we are all in the middle of many big transitions as we figure out how to create a new normal in our classrooms, in our schools, in our communi­ties, and in our country. During normal times high school students are at a point where their life is filled with transitions, all the time. But these are not normal times. The pandemic continues to affect us. This academic year has started off with increased student anxiety and upset, as well as teachers and administrators describing themselves as being "June tired." On a national level, democracy is a more partisan battle than in recent memo­ry, and partisanship is more interested in scoring points and putting political parties ahead of national interests or democracy itself. This has created a type of "cloud cover" which has affected our students and ourselves. As a people who have historically been identified as optimistic and can-do, we are struggling with our fractures and unprincipled warfare against ourselves.
How do we manage this transition for ourselves and for those we influence?
I have found valuable ponderances in an unexpected place. In the book, Greenlights, the memoire by Matthew McConaughey, he describes an interesting scene in his real life. While traveling down the Niger River in Mali, he stops at a village and is challenged to a wrestling match by a tribesman. The wrestling match resulted in a draw. Ultimately, the villagers see Matthew as the winner, not only because they know how great their best wrestler is, but also because Matthew was simply willing to accept the challenge. He reflects on that moment and what his bush guide explained to him. "It is not about win or lose; it is about do you accept the challenge." That conception offers us meaningful guidance in our current times. Often we "win" by just accepting the chal­lenge and being a participant, because it defines who we are – most importantly for ourselves.
Transitions include elements of change and challenge, and how we respond defines who we are and what we will become. In addition to accepting the change and challenge of our transitions, we must add some qualifiers. First, we cannot take on all challenges. We must account for the unexpected being added to our agenda and we should focus on our priorities with the intention of finishing what we start. Second, we shouldn't want to "win at all costs." We need to be true to ourselves. Our character is measured by our words and our actions. It may be easier to win a wrestling match by throwing sand in our opponent's eyes. But who do we become by doing that? Third, our energy and motivation are strengthened if we can reframe the change and challenge found in the transi­tion as an opportunity, not something that will stop us in our tracks. How can we look at the transition another way and find meaning and purpose? The troubles of our time, or any time, expose imperfections that reveal opportuni­ties for improvement.
We can help each other by engaging in civil society. Attend community organizations, clubs, and school groups; help write mission statements that are purposeful; schedule meetings, organize, lead by example – don't wait for it to happen, be the agenda setter and cultivate a community; reduce distractions and social media noise; and explore what is meaningful for yourselves. Through our interactions, we give a face to an opinion and show humanity to those with differing viewpoints.
In this edition of the UConn ECE Magazine we engage with some of these ideas. But I invite you to take on these opportunities in your daily life. I will be doing the same. Concurrent enrollment (offering university courses in the high school) is a very powerful tool for social change and increasing social, economic, and intellectual capital. I intend on doubling-down and supporting that mission for the expansion of concurrent enrollment in all commu­nities. I am making my own transition as I leave the director's position, but will continue advancing this important work. In these parting thoughts, I thank the entire UConn ECE Community from the bottom of my heart for doing this important work and the times we have had together. I am proud of being part of this community with you.

Brian A. Boecherer, Ph.D.