By Jessica Dunn
This year there were many outstanding nominees, reflecting the high enthusiasm and support the UConn Early College Experience community has for one another and the program. UConn ECE Instructors and Administrators were nominated by their colleagues and students for their exemplary instruction and management of the UConn ECE program. This year nine Professional Development Award winners were selected, across six different award categories, which only happens every few years. We typically present awards in five different categories, but were privileged this year to present a well-deserved Award for Outstanding Research in the Field of Concurrent Enrollment to Kathrine Grant, a UConn undergraduate. Kathrine is only the second person in UConn ECE's history to be presented with this award.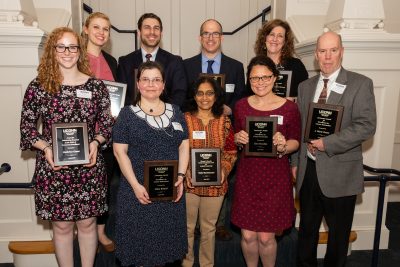 We recognized all award winners at our annual Awards Ceremony in April, presenting them with a plaque and a monetary award over a celebratory dinner with family, friends, and colleagues. It was a night full of admiration and appreciation for the dedication each award winner displays day in and out for their high schools and their students. All award winners have exceeded the program expectations and excelled in preparing their students for the next level in their education.
The UConn Early College Experience program would not be successful without passionate and dedicated Instructors and Administrators. It is a true honor to work alongside such enthusiastic educators who go above and beyond program expectations and work tirelessly for the well-being and success of their students. On behalf of all of us at UConn ECE, we applaud our Instructors and Administrators from across the state for their hard work and dedication to the program, and we are forever grateful for you.
We are pleased to announce our 2018-2019 UConn ECE Professional Development Award winners:
Thomas E. Recchio Faculty Coordinator Award for Academic Leadership
Nalini Ravishanker, Statistics
Site Representative Award for Excellence in Program Administration
Seth Korn, Newington High School
Principal Award for Program Support and Advocacy
Mary Kay Tshonas, Quinebaug Middle College
Instructor Award for Excellence in Course Instruction
Alina Britchi, Physics - Westbrook High School
J. Mark Peters, European History - Shepaug Valley High School
Peter Vermilyea, u S History - Housatonic Valley Regional High School
Sara Dziedzic, Human Rights & Political Science - The Woodstock Academy
"Rookie of the Year" Award for Excellence in First-Year Course Instruction
Kristina Sluzewski, Human Development and Family Studies - Wilton High School
Award for Outstanding Research in the Field of Concurrent Enrollment
Kathrine Grant, UConn Undergraduate
---