by Brian Boecherer
Passion is something we tend to avoid talking about in modern society. Perhaps we feel that when we express our pure excitement about something, we leave ourselves vulnerable to criticism or embarrassment. This is especially true when we are passionate about something that we are not yet an expert on. As students we are often excited by what we are learning, not knowing all the possibilities or implications of this new exploration. Yet I have found with my own students that they are reticent to share their thoughts on these passions. My sense is that they don't want to be asked any questions because they are at the beginning stages of a great exploration and would rather protect their excitement than risk feeling like "a student".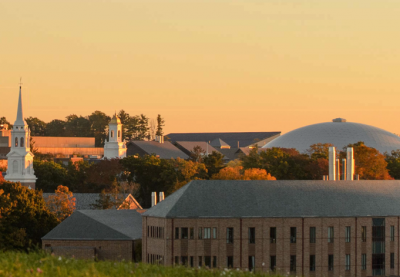 Being a student is an important role and a title that is central to my identity. I love learning and the longer I have been a student, the clearer it becomes that sharing my thoughts and passions on what I read is central to being a great student. We should always be considering and reevaluating our academic passions, as well as sharing our thoughts with important people around us. When I graduated high school I had pretty clear ideas on what I wanted to study but not very clear ideas on how I was going to use it. I loved foreign languages and politics. I was lucky to have studied Russian throughout my four years in high school and was very excited to continue learning Russian and start learning German at UConn. Some people encouraged me to go into international business, because, that's where the money is. Luckily I was surrounded by people who supported my interests and allowed me to focus my passions without monetizing them. It made my studies and self­ discovery that much more enriching. I did not go into business; rather, I stayed at the interesting crossroads of language, culture, and politics. True to a liberal arts education, my degree prepared me to do a broad array of things because I learned how to analyze and problem-solve and was practiced at applying rigorous methodologies of inquiry. All of these skills have benefited the Office of Early College Programs and allowed me to do interesting things with my life.
During my doctoral work in political science, I started to study the relationship between people and government, and especially the hidden nature of hierarchies. People at the top of the hierarchy seldom realize that a hierarchy exists and also do not always realize how their actions influence others in relationship to them. This dynamic of power is important to consider as we make big transitions in our life - from high school to college, college to the job market, and new employee to leadership. As our relationships change, so do our positions in the hierarchy. As we leave high school it becomes more apparent that we fill several roles at the same time - as a leader and a role model for those in high school, and a novice and aspirant in the environment of higher education. Yet we are all part of this fluid continuum.
Finding one's academic passions may be easy or difficult, but it is made easier by sharing our interests with those around us. We learn from each other all the time. Taking a moment to talk to your professors is the single most important thing a student can do. Starting a conversation is easier than one may think. Visit the office hours on the third or fourth week of the semester and express your thoughts on the readings and the class. I have made lasting relationships with professors by visiting their offices and expressing an interest in discussing the topic deeper or asking where my interests may lead me professionally. Additionally, start to see yourself as a leader. In that role, make time for others. Ask questions about their interests and contribute your thoughts. Higher education is still about learning and while gainful employment is the ultimate goal, our application of education makes that final connection. Your knowledge, networks, and passions will lead you in directions where job opportunities exist. The more we reach out to support each other, the richer our lives and community will be.
---