by Jessica Dunn 
Congratulations to the following high schools for participating in the 2019 UConn ECE Student Language events:
| | |
| --- | --- |
| Bristol Central High School  | Nathan Hale Ray High School  |
| Cheshire High School  | Newington High School  |
| Coventry High School  | Norwich Free Academy  |
| Edwin O. Smith High School  | North Haven High School  |
| Glastonbury High School | RHAM High School  |
| Granby Memorial High School | Staples High School  |
| Lewis S. Mills High School  | |
November was UConn Early College Experience's month of celebrating languages! For the first time, UConn Early College Experience hosted three different Language Immersion Days which included a competitive Quiz Bowl to culminate each event.
We started our celebrations with our 19th annual UConn ECE French Immersion Day and Quiz Bowl Competition on November 13, 2019, closely followed by our new UConn ECE German Immersion Day and Quiz Bowl Competition on November 14th, and wrapped up with our new UConn ECE Italian Immersion Day and Quiz Bowl Competition on November 22nd.
For each event, UConn ECE Students from across the state came together on the UConn Storrs Campus for a day of immersion and fun competition in the respective language of the event. In the morning of each event, students participated in academic sessions with department specific UConn teaching assistants and competed in a Quiz Bowl Competition in the afternoon. The academic sessions reflected the interests of the TAs, and all lessons were given in the respective language of the event. Each participating high school put forth a team of up to four UConn ECE Students to compete in the afternoon Quiz Bowl Competitions, which were moderated in French, German, or Italian. The Students were then required to answer in the same language that the questions were presented to them in.
All day, students were given the opportunity to be culturally immersed in the language by practicing their vocabulary and pronunciation, tuning their ears to new voices speaking foreign languages, learning about different cultures, and interacting with other Connecticut high school students who have a passion for learning a second (third, fourth, fifth, etc.) language. With just about 250 students in attendance for all three events, it was apparent the Students were very enthusiastic about being at the UConn Storrs Campus and excited to engage with the UConn ECE Faculty and Staff over a love of languages.
As this was the first year for the German and Italian Immersion Days and Quiz Bowl Competitions, we look forward to these events growing and becoming annual events as French has for many years. With UConn courses in Chinese, Latin, and Spanish as well, we hope to grow the number of student events in the languages in the future.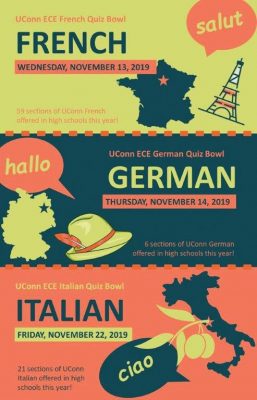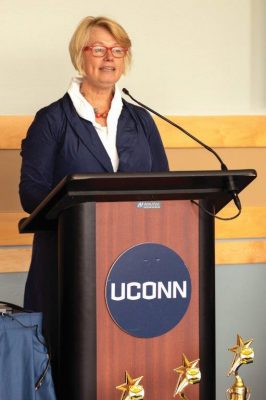 ---