By Carissa Rutkauskas

NACEP 2020 Connect 2020: The NACEP Digital Forum
Brian Boecherer, UConn ECE's Executive Director and Carissa Rutkauskas, Program Specialist for Outreach and Evaluation, presented "Pivoting to Online During COVID – Data and Trends" on October 26th for the annual national NACEP Conference: Connect 2020. Seventy attendees from around the country streamed the 40-minute session. The presentation touched on topics like communication strategies that foster a stronger community, solutions to common classroom problems, best and worst practices from the UConn ECE professionals, qualitative and quantitative student data, and UConn's new practice of recording high school teachers and their lessons.
NACEP 2020 Accreditation Commission
On November 4th, Brian Boecherer, UConn ECE's Executive Director, presented at NACEP's Accreditation Commission, and spoke about UConn ECE's approach to accreditation standards. Familiar with the process, UConn ECE has been accredited with NACEP since 2007. UConn is one of 116 concurrent enrollment programs throughout the country that holds this distinction and the only program in New England.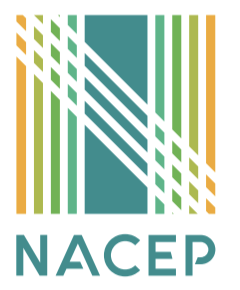 NACEP 2020 Concurrent Enrollment Review
On November 5th, Brian Boecherer, UConn ECE's Executive Director, presented with colleagues Fabiola Juarez-Coca of Boise State University and Melanie Nappa-Carroll of Syracuse University on the much-anticipated peer-reviewed concurrent enrollment journal: The Concurrent Enrollment Review (CER). This peer-reviewed academic journal on concurrent enrollment, which is three years in the making, will be the first to offer educational professionals, researchers, and policymakers insight into this interdisciplinary model of education.
UConn ECE 101
What is UConn ECE? What courses are offered at my school? How much do courses cost? How does it differ from Advanced Placement? Answers to these questions and more can be found on our new UConn ECE 101 page. ece.uconn.edu/uconnece101/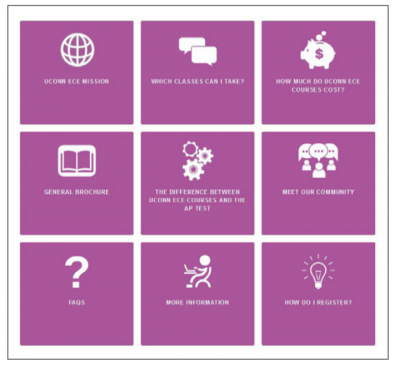 Meet our Community
Who are the people of UConn ECE? Visit our newly updated "Meet our Community" page for insights from UConn ECE Students, Alumni, Instructors, Site Representative, Principals, and Faculty Coordinators. Complete the form to be featured on our website as well! ece.uconn.edu/meet-our-community/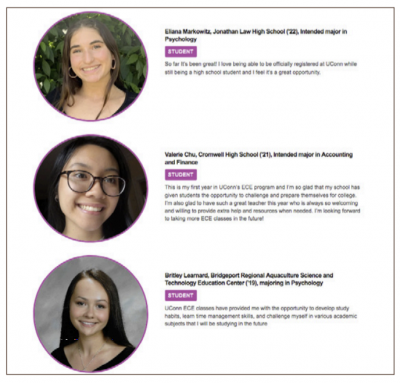 Community Reviews
You can read reviews about restaurants and hotels before you go… here is your opportunity to read about UConn ECE before taking a course. Take advantage of this new program feature to discover first hand experiences of others, or complete a review to share your own UConn ECE experience: ece.uconn.edu/about/uconnecereviews/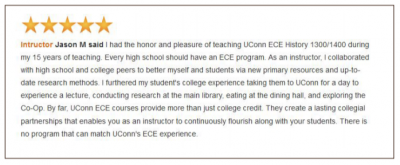 Middle School Outreach
On November 25th , UConn ECE staff spoke with students at Mansfield Middle School for the third year in a row during their College and Career Readiness Day. Although we were unable to be in person this year, we were still able to interact virtually and play a dynamic game of UConn ECE and College Ready Jeopardy with the students. If you know of a middle school who would like more information on UConn ECE and outreach activities for their students, please contact us at ece@uconn.edu.