By Carissa Rutkauskas
UConn OECP Executive Director, Christopher Todd; Outreach and Evaluation Specialist, Carissa Rutkauskas; and Consultant, Pamela Peters attended the National Alliance of Concurrent Enrollment Partnerships (NACEP) 2022 conference in Minneapolis, Minnesota in early November. In addition to networking, a keynote from John O'Brien, President and CEO of EDUCAUSE, breakout
sessions, and workshops, UConn ECE presented a session in the research strand, accepted their re-accreditation plaque, and paid tribute to Prince by visiting the First Avenue Night Club.
Peters and Rutkauskas presented "Developing a Long-term Integrated Plan for Data Collection and Analysis," where Rutkauskas introduced UConn Early College Experience and Peters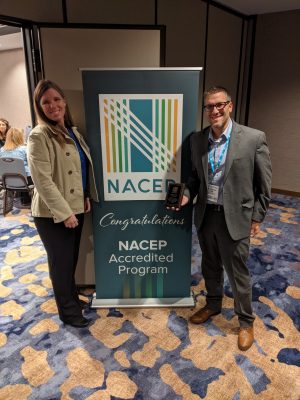 discussed how she improved the UConn ECE Alumni Survey and aligned it with other surveys and data collection points, with the ultimate goal of having a cohesive data set for continual program improvement. Todd and Rutkauskas attended the accreditation and re-accreditation luncheon where they accepted the UConn ECE NACEP re-accreditation plaque, indicating that the UConn ECE program meets NACEP standards and will hold this accreditation for the next seven years. UConn ECE is the only program in New England to hold NACEP accreditation
and has continuously held this achievement since their initial accreditation in 2007.
All three attendees came away from the conference with great information, insights, and connections. Peters, a doctoral student in the UConn Neag School of Education's Research Methods, Measurement, and Evaluation program, with a background in gifted education, states her biggest takeaway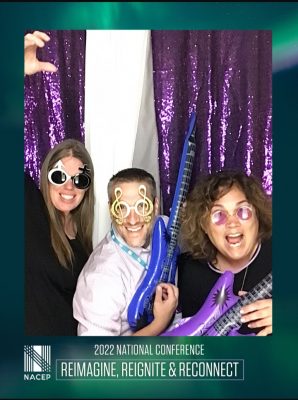 was "how hard people are working to maximize the benefits and experience dual/concurrent enrollment students are having and how widespread these programs are". Rutkauskas is excited to start using what she learned about National Student Clearinghouse data to gain a better sense of what UConn ECE Alumni do once they graduate high school. She is also grateful for sample student self-advising forms that colleagues shared from their programs and will use these as a model for UConn ECE. Todd is still in his first year in his role and, like Peters, was a first time NACEP conference attendee. For Todd, the NACEP conference highlighted the lack of Connecticut presence within the national concurrent/ dual enrollment dialogue, despite UConn Early College Experience being recognized as the oldest, and one of the largest single concurrent enrollment programs in the nation. Todd stated, "NACEP highlighted the need to have ongoing and frequent communications as part of a community of practice with the Connecticut State Department of Education (CSDE), partner school districts, instructors, students and fellow concurrent/ dual enrollment programs across the
state to build momentum for growth, support for access and to ultimately ensure high program quality".
---