By Christopher Todd | Body and participant data by Cyndee McManaman, CT History Day Regional Coordinator

On a brisk Saturday at the onset of UConn's spring break, over 200 students accom­panied by family, friends and educators descended upon UConn's Storrs Campus to participate in the Connecticut History Day's Mansfield/Storrs Regional Contest. Organized by the Connecticut Democra­cy Center, in partnership with the De­partment of History at UConn as well as UConn's Office of Early College Programs, Connecticut History Day (CHD) success­fully returned to in-person on the Storrs campus after a three-year hiatus during the Covid pandemic.
Connecticut History Day
Connecticut History Day is an affiliate program of National History Day (NHD) which annually engages nearly 5,000 middle and high school students in histor­ical research, interpretation, and creative expression through project-based learning. As stated by the CHD, the program seeks to bring students, teachers, museums, and scholars together to support young peo­ple as they engage in history. Led by the Connecticut Democracy Center, CHD is presented with major funding and partner­ship support from CT Humanities.

CHD offers a wide array of free resources for teachers and students to assist them with the History Day process, including:
Teacher Handbook (English and Spanish)
Student Handbook (English and Spanish)
Educator Workshops
In-class student workshops
Digital resources for research and writing

Mansfield/Storrs Regional Competition

Throughout the Northeastern Con­necticut Region, 23 teachers repre­senting 27 schools brought History Day into their classrooms during the 2022-2023 school year. The North­eastern region supported 536 of the statewide 4670 school-level partici­pants, with 224 students attending the Mansfield/Storrs Regional Contest at UConn on Saturday, March 11th. In all, CHD held 6 regional contests around the state with the state con­test held at Central Connecticut State University (CCSU) on May 6th. As 47 Connecticut students head to Univer­sity Maryland – College Park this June for the National Contest, 22 of them are students from the Northeastern Region.

Because of the unique design of CHD, teachers have the flexibility of using the History Day program in a format that meets their diverse needs: inte­grated into the content area or hon­ors/enrichment curriculum or as an after-school activity or club. Students have the flexibility of working alone or in a small group to create a project in one of five formats: documentary, exhibit, historical paper, dramatic per­formance, or a website. The students select a topic that interests them and then use the annual theme as a lens through which to view and analyze their research and frame their projects.




While at the Mansfield/Storrs Region­al Contest, CHD teachers Dr. Matt Cieslowski (UConn AMST 1201:  Seminar in America Studies) and Ian Webster (UConn HIST 1501 & 1502: US History to 1877 & Since 1977; HRTS 1007: Intro to Human Rights) from Manchester High School were recognized as this year's recipients of the Patricia Behring History Day Teacher of the Year Award-Senior Division for Connecticut. Patricia Behring was a longtime benefactor of National History Day, and each affiliate selects a teacher for the Junior and Senior divisions to then compete for the honor of becoming recognized as the National History Day Teacher of the Year at the national contest in June.

It was wonderful to support the return of CHD's Mansfield/Storrs Regional Contest to the Storrs UConn campus. All the hard work and planning by participants, families and program staff alike translated into an amazing day for CHD. Who better to share some highlight than the participants themselves.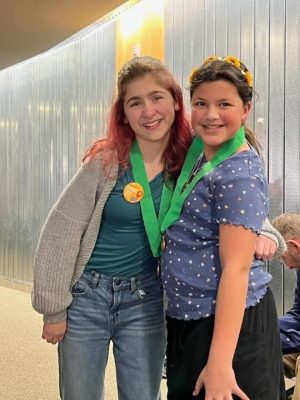 Comments from students at the Mansfield Regional Contest:

"The thing I liked best about the Re­gional Contest was that I got to be an expert on a topic I had a lot of inter­est in. I truly feel like I know a large amount of information regarding my topic and am happy to have this knowl­edge that really no other experience could provide me with."

"I thought that it was really fun to be a part of something that so many people were invested in and took so much pride in being a part of this contest."

"The thing that I liked best about the contest is that I got to do a project on a topic of my choosing."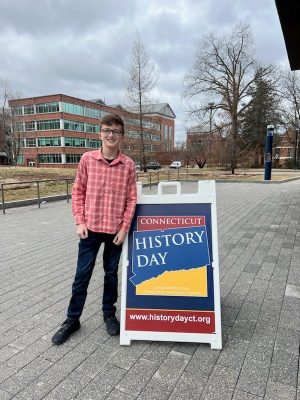 Comments from parents at the Mansfield Regional Contest:

"She gained significant research and writing experience, honed her time management skills, speaking with judges was a good public speaking experience."
"Great learning and growing experience! An overall beneficial experience in character building."
Comments from teachers at the Mansfield Regional Contest:

"History Day offers a variety of academic challenges for students. Developing a long-term, well-researched project is quite a daunting task for students who often have been asked [at best] to complete a 'research' project over the course of a few weeks. Scheduling time to work on a project over a few months' time and meeting deadlines for registration, paper­work upload and finally project submission is an excellent learning experience for all participants."

"Participation in History Day enhanced their research skills and attention to detail in formal academic work; challenged them to reach higher standards for their work."

Comments from judges at the Mansfield Regional Contest:

"As a future teacher, I found it a great experience not only the judging but also seeing the students work, and talking with other professionals in History, and hearing not only their approach to judging but what they do in their work and their experiences. It's a great way to connect with people!"

"I am always so impressed by the students' knowledge, level of commitment, and energy."