By Nella Quasnitschka
After canceling the program in 2020 and hosting a virtual program in 2021, UConn Pre-College Summer returned to campus this year. We weren't sure what to expect after a two-year hiatus, but we were pleasantly surprised as enrollments began to quickly roll in as the summer neared. By the start of the first session, we had 377 students who were enrolled in 419 courses over a four-week period.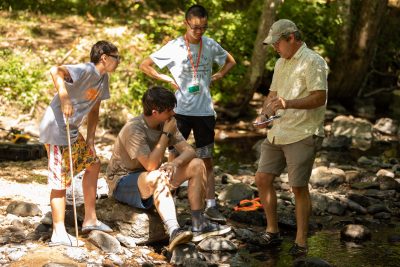 Since its inception, the program has strived to provide access to students who cannot afford to enroll in a course. As a result, we have been able to provide more access through partnerships with faculty who have applied for grants which include scholarship money, schools and non-profit organizations, and access initiative awards which provide full or partial funding. This past summer 30%, over 100 students, benefited. Below is a brief description of these partnerships, collaborations, and awards.
UConn's Department of Earth Sciences secured scholarship money through a National Science Foundation grant to help fund eight students in the Earth and Environmental Science course. The faculty, Dr. William Ouimet and Dr. Michael Hren, took students to our UConn forests to conduct field and lab experiments and included guest visits from Geoscience faculty to discuss a wide range of topics in the discipline. In their assessment of the course a student stated that the professors "helped me build my own idea of what I want to major in."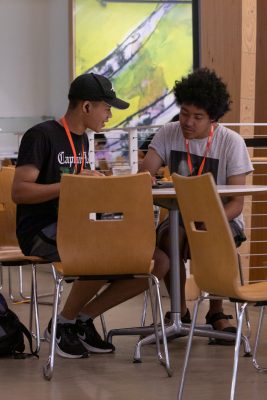 Dr. Jennifer Terni, Department Head of the Department of Literatures, Cultures, and Languages received a STARTALK grant, a federal grant program funded by the National Security Agency. This grant included funding for up to 40 high school and college age students to participate in the STARTALK: Chinese Culture and Language Immersion course taught by professor Chunsheng Yang or the STARTALK: Korean Culture and Language Immersion course taught by professor Eun-Ju Shin. Thirty-three students participated in the courses, at no cost. Students stated that "most activities were very engaging. They were conversation focused so it made lots of students improve their speaking and listening skills".
UConn Cultural and Education Exchange with Indigenous Nations (UCINCEE) is a mentorship program with local Native youth. In 2020, Zoe Belivine, an undergraduate student and now alumni, applied for the President's Commitment to Community Initiative which focused on making UConn a more inclusive space by fostering respect and understating among the UConn community. This grant would fund enrollments for five students from Indigenous Nations. Last summer, Zoe was able to send one student to the program with hopes of sending more in future summers.
Dr. David Gregorio, Director of Programs in Applied Public Health Science at UConn Health received funding from the CT Department of Public Health to initiate several programs, all intended to enhance the pipeline of individuals pursuing careers in public health. The funding included eight scholarships for students to enroll in the Public Health course taught by Professor Amy Hunter, Ph.D., M.P.H. The course introduced students to the art and science of public health practice with a focus on preserving health and preventing disease within our communities. Students enrolled in the course stated that the course "has generated an interest in pursuing Public Health as my major."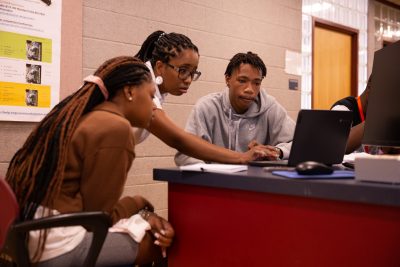 Connecticut IB Academy sponsored 24 of their students who enrolled in a course of their choice including, Pre-Med: Musculoskeletal Injury and Pathology, Robotics Engineering, and Animation Studio.
Noble School's Summer of a Lifetime program provides funding to over 1,000 Noble students every year who participate in various pre-college programs across the country. Last summer 29 students enrolled in UConn PCS courses. We have been working with Summer of a Lifetime since 2019 and have had close to 100 students join us since. We hope to continue our collaboration for years to come.
In 2021, Cody Olsen, HESA GA for PCS proposed to pilot an access initiative, the Life Transformative Education Access Initiative, which has provided financial assistance to 14 participants over the last two summers – five in 2021 and nine in 2022.
Without these partnerships, we would not have been able to provide access to so many students. Thank you to everyone that has taken a role in making this possible. If you are interested in partnering with Pre-College Summer, please reach out to us at pcs.uconn.edu.
---