By Carissa Rutkauskas
UConn ECE faculty, staff, and award winners look forward to the annual Professional Recognition Awards Ceremony each year. They enjoy an elegant sit-down dinner, serenaded by a trio of UConn jazz ensemble students, celebrating a successful academic year by recognizing outstanding instruction and administration for the UConn Early College Experience Program. This year it would have been on Tuesday, April 28 in the Gallery of the Jorgenson Center for the Preforming Arts. Things did not quite go that way.
As high schools began closing in early March, first for 2 week, then for longer, the University told college students not to return to campus from Spring Break; faculty and staff began working remotely; and the opportunity to honor those nominated by their students and colleagues was not going to happen in person. So, we embraced technology and the good nature of the award recipients and went online. The prerecorded 2020 UConn ECE Professional Recognition Awards Show premiered on Monday, May 4 with a private screening on the UConn ECE YouTube channel. Friends, relatives, students, and colleagues were able to watch and interact with the 25-minute production. Eleven award recipients, 7 staff members, and 1 faculty member had submitted video footage that was then edited together by Austin Gao, Digital Media and design student, to create a memorable evening for all.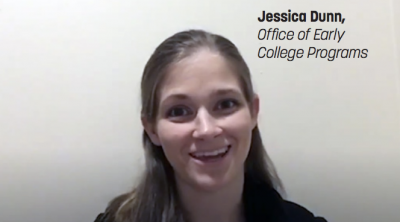 Congratulations to the 2020 winners:
| | | | |
| --- | --- | --- | --- |
| Award | Name | School | Discipline |
| Thomas E. Recchio Faculty Coordinator Award for Academic Leadership | Scott Campbell | UConn | English |
| Principal Award for Program Support & Advocacy | Thomas Moore | Wethersfield High School | Principal |
| Site Representative Award for Excellence in Program Administration | Alicia Melillo | Cromwell High School School | Counselor |
| Instructor Award for Excellence in Course Instruction | Eric Bosley | Plainville High School | European History |
| | Angela Brower | RHAM High School | Latin |
| | Libbi Intemann | Trumbull High School | Philosophy |
| | Geoffrey Kern | Edwin O. Smith High School | Statistics |
| | James DeCesare | The Master's School | Drawing |
| | Sarah Tibbetts | Daniel Hand High School | Chemistry |
| "Rookie of the Year" Award for Excellence in First-Year Course Instruction | Carla Toney | Newington High School | Italian and French |
| Jan Pikul Award for Continued Excellence in Instruction | William Schultz | Enfield High School | Chemistry |
---