By Jessica Dunn 
UConn Avery Point hosted their 9th Annual Avery Point Cardboard Boat Race on September 18, 2019. With just about 350 UConn Early College Experience Students in attendance, and many UConn Avery Point Students, the event was one for the books! As in years past, undergraduate students, UConn ECE Students, faculty, and staff prepared for the event by spending many hours constructing boats out of cardboard and duct tape with the hope to stay afloat on race day. Participants gathered at Eastern Point Beach in Groton, Connecticut and were tasked with paddling their boat (by hand or actual paddle) around the marked course and crossing the finish line to qualify for an award.
Although the boat race was the main attraction of the day, UConn ECE Students also spent time on the UConn Avery Point Campus. UConn ECE Students were given a warm welcome by Dr, Annemarie Seifert, the UConn Avery Point Campus Director; attended academic lectures with University facultyand staff; engaged in discussions with fellow UConn ECE Students; and explored a portion of the Connecticut Blue Heritage Trail, an interactive maritime heritage trail, all before indulging in lunch, and heading to the beach to race!
This year the boat race theme was Historic Boats, and many teams came prepared with creative boat names and original designs such as "Jolly Roger Penrose the (Pi)rate" from the UConn ECE Physics class at Emmett O'Brien Technical High School. We had a total of 25 boats compete, representing 15 different high schools across the state: Bridgeport Regional Aquaculture High School, East Lyme High School, Ellington High School, Emmett O'Brien Technical High School, Glastonbury High School, Ledyard High School, Lyman Hall High School, NFA, Science & Technical Magnet High School, Shelton High School, The Masters School, University High School, Waterford High School, and Wilby High School.
Teams were recognized for team spirit and best boat design, as well as placing in the races. For the second year in a row Westbrook High School's UConn ECE Physics team brought home the trophy for first place in the UConn ECE Championship Race with their "Westbrook Turtle II". Ledyard High School's UConn ECE Marine Science team in the "Mayflower" brought home 2nd place, and Waterford High School's UConn ECE Physics team in the "Exxon Valdez" brought home 3rd place.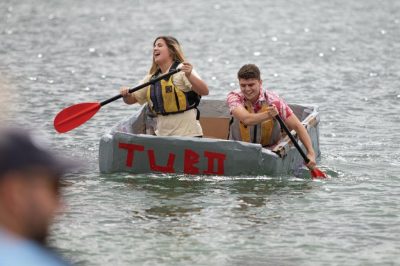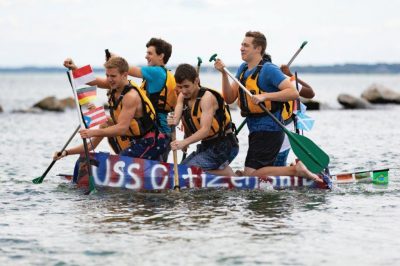 ---