By Brian Boecherer
The audience was riveted. Our guest speaker for the October Political Science workshop, Professor Akhil Reed Amar, lit-up the room with his conversation on the election. The last time the country was in a similar position was 1864, he said, when the election had the chance of pulling all four levers of government in the same political direction. Prof. Amar clarified that in this election, just like in Lincoln's second campaign, it is completely possible to have a result where the president, the House, and the Senate could all shift to either completely Democratic or Republican controlled. If this were to happen, the nominee for Justice Antonin Scalia's position would also be from the party in power. The next justice, who will be nominated and elected under the new government, will shift the balance of power. As we now know, all four levers of power did/will move in one direction. Professional development workshops should always be so engaging and so informative.
Prof. Akhil Reed Amar is the preeminent scholar on Constitutional law in the country. His expert analysis has been cited in a score of Supreme Court decisions and his name has been mentioned as a possible nomination for Scalia's seat on the bench (not by the Trump administration though). We were
honored and quite fortunate to have him as our guest speaker, the result of UConn ECE Instructor Aaron Hull (Greenwich High School) who was previously acquainted with him.
The Political Science workshop is an example of a larger UConn ECE effort to deepen our academic impact on the ECE community. A year ago UConn ECE examined budgets and reapportioned funds to deepen our academic investment in faculty and students. We have always been very proud to receive feedback that our workshops are the best PD faculty attend all year. But these comments spurred us to reach even higher. Departments like Biology forged the path already a few years ago, when Dr. Tom Abbott, faculty coordinator, designed his workshops to get ECE faculty back into the labs, the greenhouses, and using equipment that is generally inaccessible to high school faculty.
Departments have been using these new financial resources in unique ways. U.S. History hosted experts from the Pequot Museum in November to lead a discussion on indigenous approaches to teaching U.S. History. Last spring Statistics purchased specialized software called R and organized an online Summer Institute to learn proficiency. Maritime Studies hosted their annual workshop offsite at the Connecticut River Museum. In December, UConn ECE Chinese (pilot program) will host a leading scholar on the teaching and learning of Chinese, where workshop attendees will receive a complementary copy of her
textbook.
The development plan for UConn ECE has always been built around rigorous academic standards. NACEP standards were a guiding light for our development, just over 10 years ago. Now that NACEP
standards are institutionalized, our new endeavors are the deepening of academic resources. Additionally, UConn ECE is hosting a number of small grant opportunities to develop the classroom and the community. There are also student scholarships and opportunities for increased student participation, like the hugely popular UConn ECE Ambassador program. This edition of the newsletter will highlight many of the new development initiatives. We hope you enjoy reading about them, we hope you enjoy participating in them, and we welcome your input always.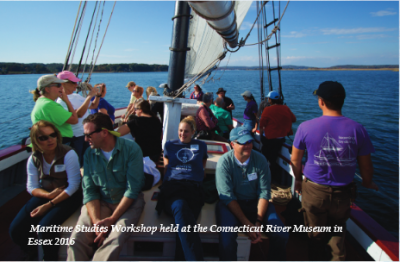 ---