By Melanie Ochoa
The Faculty Spotlight is a chance to highlight UConn ECE Faculty Coordinators and the great work they
do. The first spotlight goes to US History Faculty Coordinator, Matthew McKenzie, 2015-2016 award
winner of the Thomas E. Recchio Faculty Coordinator Award for Academic Leadership and star of UConn ECE's first Welcome Video. Matthew joined the UConn ECE community as the American Studies Faculty Co-Coordinator, and has additionally taken the role as the United States History Faculty Coordinator.
1. How did you get involved with UConn ECE?
It was part of the job. NO one had told me that when I applied, but I was thrilled to learn that I would be
working with ambitious, talented, and creative High School teachers. It seemed to me the best of both
worlds: I could enjoy working with my students and could support others working with theirs.
2. What are your current research interests?
I'm finishing a history of the 20th century New England fisheries. As a follow up, I am speaking with
researchers in Canada and Australia about expanding that project to examine the ecological and social impacts of the global expansion of otter trawling (dragging). Pretty arcane stuff, but it's important.
3. What is your philosophy of teaching and learning?
Care. A lot. That's pretty much it. If you care about your students, colleagues, and institution, you'll do
your best. If you care about those people who have passed, you'll be a better researcher. Just care.
4.What do you consider to be one of your greatest achievements? Why?
Raising my son: he's an amazing kid: happy, considerate, smart, kind, tough, and at only eight years old,
argumentatively precocious (he's going to be a lawyer, I can see it already). The extent to which I had anything to do with who he is today, well, I'd be proud of that. The truth is, though, he is who he is: he made that.
5.What are your hobbies?
I love being outside. I hike, camp, canoe, kayak—the usual mix. I'm also a bow hunter—a hobby that taught me to look at forest ecosystems entirely differently. If I ever get any time again, I might build another boat: then again, I don't use the one I did build—but it was a lot of fun doing it.
6.What was your favorite course you ever took in college?
I took a History of the Enlightenment course with Jan Golinski in grad school. He assigned David Wilcox's Measures of Times Past, and Kuhn's Copernican Revolution. Those books showed me how fluid scientific understandings—and even our understanding of measuring time—have been. I wasn't expecting that and the course blew my mind.
7. How many UConn ECE U.S. History instructors are currently certified?
80 instructors.
8.What is the best advice an instructor can give to students on their last day of high school and/or college?
Pay attention—to everything you see. And travel, as much as you can.
9. What is your all-time favorite book?
Wow. Probably Tolkien's works (I know, I'm cheating with that answer). As a folklorist, he was a master of inventing histories with the quirks and surprises that made them seem real.
10. What would you recommend students do to succeed in a UConn ECE class?
Pay attention.
11. If you were a superhero, what would your superpower be?
Seriously? Do I really have to answer that? I think I would be a mean fiddle player. I'm not sure that's a
superpower, but good violin players are superheroes to me.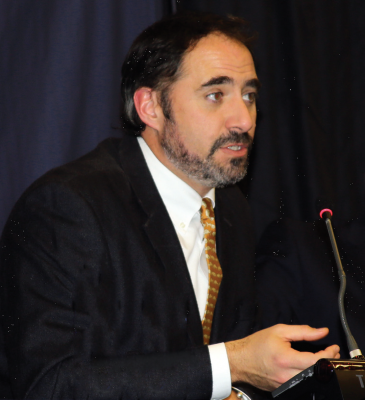 ---