By Brian A. Boecherer
April 7th was a cold Saturday; the early morning mist hung shoulder-high as I made my rounds, unlocking classroom doors and checking to see if our door signs were still in place. This was the first year we were hosting the Connecticut Science Olympiad (CTSO) and we wanted it to go off without a hitch. I remembered the first planning meetings that started in the summer. Yes, an event like this takes time and many dedicated volunteers and staff. In total, we were hosting 1,200 high school students, coaches, and volunteer staff from UConn, other universities, and industry. This was the biggest event that OECP has ever hosted.
McHugh Hall (née Laurel Hall) was the center of activity, and between 7:30 and 8:00 it was a beehive of action as teams signed in and talked excitedly about the day to come. Despite the early hour, these young scientists created their own energy — we were all eager for the games to begin. By 8:30 the nearly 1,000 students had dispersed to the seven buildings which composed our academic battlegrounds. Students from 42 different teams were to compete by performing in 23 different activities, labs, and tests. The day was long, but what does an Olympian expect? While luck favors the prepared, battles are won in the will and only the strong survive. Events ranged from anatomy and physiology, to being a disease detective, to developing remote sensing systems. Other events required teams to come prepared having built a helicopter, a bridge, and a car powered by a mousetrap!
The top three finishers were: in first place, the Hopkins Schools (New Haven); in second place, South Windsor High School – Team A; and in third place, Staples High School (Westport).
I got the opportunity to walk around and visit many of the events, which were designed and hosted by high school instructors, UConn professors, and industry experts. These were great spaces to watch the excitement and see students engaging with professionals. In just a few years these students will be professionals — young scientists who we hope engage with the next generation of students.
While other departments and offices have hosted the Connecticut Science Olympiad in the past, the Office of Early College Programs is very proud to make CTSO a permanent part of our office, further developing the rich academic outreach which has become part of the State culture — UConn ECE, Pre-College Summer, and CTSO.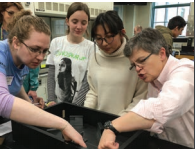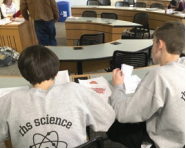 ---