By Todd Blodgett

Registration is under way for the 2018-2019 academic year. We look forward to welcoming in a new class of ECE students and continuing to work with our current ones! This past year we had more than 12,500 students across 205 partner schools register to take at least one ECE course. During the registration process, students will have the opportunity to select, apply and enroll in their courses for the upcoming year. Many schools have expanded their course offerings and students should meet with their Site Representative or school counselor to see which course(s) fit their academic plan. Planning ahead is a critical aspect of looking towards your academic future and will make your registration process much simpler and smoother. Stay tuned to our social media pages for registration tips and deadlines that can assist you with completing the registration process.

With 12,047 students already applied we are anticipating another successful year of ECE course offerings!

Registration Dates and Deadlines
• April 30, 2018: Registration Opens
• June 1, 2018: Application Deadline
• June 29, 2018: Enrollment Deadline
• August 15, 2018: Add/Drop Period Opens*
• September 14, 2018: Add/Drop Application Deadline*
• September 28, 2018: Add/Drop Enrollment Deadline*
* Additional $25 processing fee for either adding or dropping a course during the add/drop period.

Billing and Payment Dates
• November 8, 2018: Third Party Billing Roster Submissions
• November 22, 2018: Fall and Full Year course fees due*
• January 8, 2019: Spring course fees due*
* Additional $50 late fee charged if entire course fees are not paid by the posted deadline.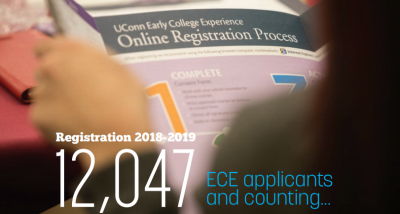 ---