By Randy Philavong, Emily Wheeler, Catherine Bedson, and Melody Crane
Groton, CT- Ellington High School students claimed victory in UConn's annual Cardboard Boat Races on
September 22, 2016 at UConn Avery Point campus.
UConn Early College Experience (ECE) students from all around the state gathered to compete in the university's sixth annual cardboard boat competition. Ellington High School received its first invitation to participate in the event after the competition initially began.
Three to four days prior to the race, ECE Physics students at Ellington High designed and built their boats only using cardboard and duct tape. Students looked back the design process as difficult but highly successful.
"It was an enjoyable experience building the Piece of Ship, but picturing what the boat would end up looking like was difficult." said Cat Bedson, senior at Ellington High School. "There were so many different components but it ended up coming together nicely!"
The students produced four, of many, cardboard boats to compete in the race: The Bass Kickers, Piece
of Ship, E=m(sea)2, and Shake Your Boaty, Nauti Buoy.
Ellington High School's ECE Physics teacher, Justin DeCormier, explains the event as a great opportunity to teach students about the physics revolving around buoyancy in a competitive way.
"This is a grand opportunity for us to practice team building and real world applications of classroom
knowledge, engineering, teamwork, and focus," said DeCormier.
The race included four heats of cardboard boats. Current UConn Physics' students were to participate in the first heat. Followed by two heats of high school students and the fourth heat being the championship race.
Colby Unterstein, senior at Ellington, piloted Piece of Ship that started the race with a commanding lead and maintained that lead by finishing first in heat one. Unfortunately, the other Ellington boat, Shake Your Boaty, Nauti Buoy, could not finish in the top three of the heat.
In heat two, Ellington's E=m(sea)2 looked to place second in the race but in the final stretch, pilots, Tessa Webb and Matt Phillips, made a dramatic comeback giving Ellington another first place ranking. Sadly, another Ellington boat could not participate in the race due to their boat sinking.
In the final heat, Piece of Ship, E=m(sea)2, and other boats from other schools competed for the overall  champion. Unterstein pulled another commanding lead as Piece of Ship became the only candidate to stay afloat, while the other boats, sadly, fell apart or sank.
Unterstein commented that his experience as the pilot meant a lot to him and his school.
"It was a true honor to win such a prestigious award for my school." said Unterstein. "I know it meant
a lot to the students and teachers involved."
There is no doubt Ellington's competitive spirit has helped them achieve success.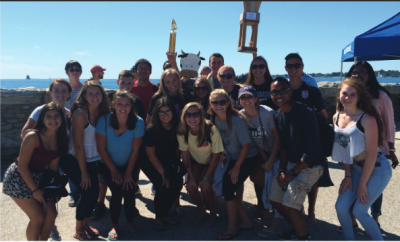 ---