By Melanie Ochoa & Magdalena Narozniak
UConn Early College Experience is happy to announce the release of the Credit Transfer Database, a resource tool now accessible to all students, parents and affiliates intended to demystify the misconceptions surrounding credit transfer. Students taking University of Connecticut courses through UConn Early College Experience do not need to attend UConn to use their earned credit. Credits are widely accepted throughout the nation and normally transfer along the lines of transfer credit. Yet, there are many institutions that do not accept concurrent enrollment credit or any transfer credit – that's why getting information early in the college application process is crucial.
The Credit Transfer Database is designed to be a guide when identifying potential credit transfer opportunities and problems. Including over 980 accredited institutions in the United States, the database provides credit transfer policies specific to concurrent enrollment and rates the likelihood of successful credit transfer from courses offered at the University of Connecticut through UConn Early College Experience to institutions elsewhere in the country. The general information found in the policies allows students to explore options for transferring credits. The policies can contain a range of information from required grades for transferability to potential meetings with an advisor and submission of official transcripts.
The transfer credit policies are rated on a zero-to- five star scale with five and four stars indicating a high likelihood that credits will transfer successfully. Some policies ranking five stars will be so detailed
that precise course credits will be listed if accepted. Institutions with one, two, and three stars may
require some extra effort on the part of the student to get the credit transferred, like submitting a course syllabus for evaluation. Institutions with zero stars will not accept concurrent enrollment credit. Even if an institution will not accept credit, students should be reminded that they also benefited from the
experience and by taking college courses while still in high school, they appear more competitive in the
application process. Under no circumstance does the UConn Early College Experience Credit Transfer
Database guarantee acceptance of transfer credit as it
is only meant to be a guide.
The database is an outcome of the 2013 Concurrent Enrollment Credit Transfer Study, performed at the University of Connecticut and supported by a NACEP Small Research Grant. The study was conducted in three parts: a survey of U.S. admissions officers and registrars, an in-depth Alumni survey and extensive data mining of publically available transfer policies. Based on those results and the results of annual Alumni surveys, we can say with confidence that UConn credit earned through UConn Early College Experience transfers at a rate of about 87%. Not only were the institutions in the database chosen based on where our alumni are attending but, top universities and colleges from popular ranking sources were also included.
The UConn Early College Experience Credit Transfer Database can be found at http://ece.uconn.edu/ research/. Want to see a transfer credit policy of an institution not found in the database? Let us know by contacting us at ece@uconn.edu.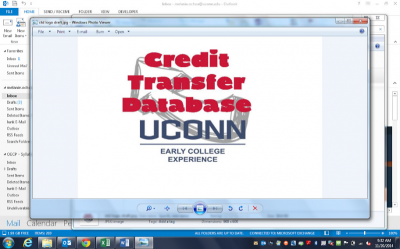 ---