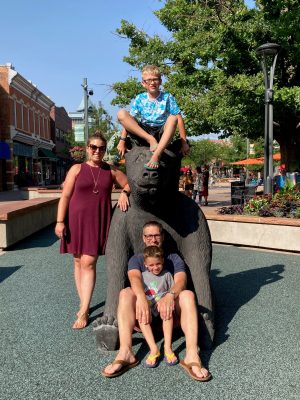 By Christopher Todd
The Office of Early College Programs and the UConn ECE Community is excited to officially welcome Christopher Todd, as our new Executive Director of OECP/ECE.  With nearly 20 years in public education, Chris comes to UConn as a practitioner with extensive field experiences and a proven track record of success as both a classroom educator and state agency leader, who has worked tirelessly to elevate the profession on the behalf of students and educators.  While Chris may be stepping into a new role, UConn and the ECE Community is in no way new to him, and his return to UConn serves as a homecoming of sorts
Growing up in Willington, CT, Chris' first experience with the UConn ECE Community and concurrent enrollment programs began as a student at E.O. Smith High School in Storrs, where he enrolled in UConn courses as both a junior and senior.  After completing his BA in History and a secondary social studies education licensure program at the University of Colorado, Boulder, Chris returned home to Connecticut, beginning his teaching career at Windsor High School.  For the next 15 years of his career, Chris dedicated himself to the Windsor Public School community, in both classroom and district-based leadership roles.  Chris benefited from the support of incredible colleagues, mentors, and leaders during his time at Windsor as he worked to refine his own instructional practices in order to develop and deliver highly engaging and rigorous lessons designed to motivate and prepare students to pursue their post-secondary goals and career aspirations.  As a classroom teacher, Chris distinguished himself as both a state and national award winner, teaching a wide variety of courses and levels including alternative education, Advanced Placement and UConn ECE (POLS 1602).  In addition to his teaching, Chris was a longtime varsity swimming & diving coach and a frequent participant on district and building-wide committees.  While teaching, Chris went on to complete his MA in Public Policy at Trinity College, and eventually returned to UConn to earn an MA in Curriculum & Instruction.
As a district-based teacher leader, Chris split his time between the classroom and facilitating the district's Teacher Education and Mentoring (TEAM ) program. Chris worked with district leadership and colleagues to advocate for the expansion of Windsor's New Teacher Academy and provide educators with release time to observe colleagues and participate in PD.  Additionally, Chris coordinated district Educator Preparation Program (EPP) partnerships and teacher leader initiatives.  Under Commissioners Stefan Pryor and Dr. Dianna Wentzell, Chris had the distinct privilege of serving as a Teacher Leader-in-Residence at the Connecticut State Department of Education (CSDE) where he co-led the Department's Teacher Leadership initiatives and advocated for educator voice and input into the policy making process.  In 2013, Chris was honored to be recognized by his colleagues as the Windsor Public Schools Teacher of the Year and was recognized as Connecticut's 2013 James Madison Memorial Foundation Fellow.  In 2014, Chris was a Finalist for the 2014 Connecticut State Teacher of the Year and was the recipient of the Connecticut Daughters of the American Revolution Outstanding Teacher of American History.
For nearly three and half years, Chris has served as Bureau Chief in the Talent Office at the Connecticut State Department of Education (CSDE) where he provided leadership and support to the Bureau of Educator Effectiveness and the Bureau of Educator Standards and Certification.  While at the Department Chris helped design, build, and implement systemic changes to support educators, districts, and students statewide.  During his time in the Talent Office Chris fought to streamline and enhance educator certification; bolster relationships with the state's Educator Preparation Programs and RESC Alliance; enhance Connecticut's TEAM program; and engage critical stakeholders in the reform of educator evaluation and support.  However, Chris is most proud of his work and efforts with the Talent Office team to provide timely and meaningful guidance and flexibilities to the field during the Covid-19 pandemic.  During his time at the Department, Chris has also served as an adjunct faculty member for both UConn's Neag School of Education and Sacred Heart University's Farrington College of Education.
As Chris begins his new role of Executive Director of the Office of Early College Programs, he is excited to bring his passion for education and high-quality curriculum and instruction, as well as his experience building robust and meaningful partnerships, to a nationally recognized program that he believes offers a critical and timely solution to ensuring that all Connecticut students have equitable access to a high-quality education.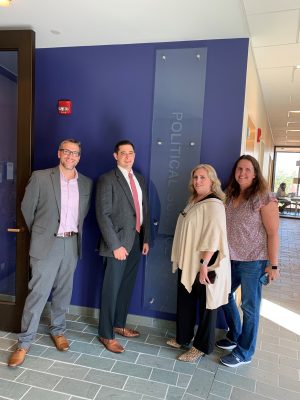 Fall 2021 Political Science ECE Instructor Workshop with fellow UConn ECE Instructors and Connecticut James Madison Memorial Fellowship Winners Jon McGlynn ('19) of Windsor High School, Michelle Pusser ('15) of AITE, and Kathleen Boland ('20) of Trumbull High School.
WHS POLS 1602 (Annual trip to the CT State Capital and meeting with Sen. Richard Blumenthal, Rep. Brandon McGee and Sec. of State Denise Merrill).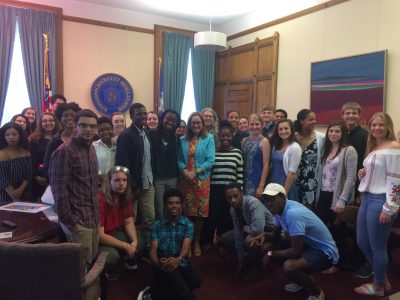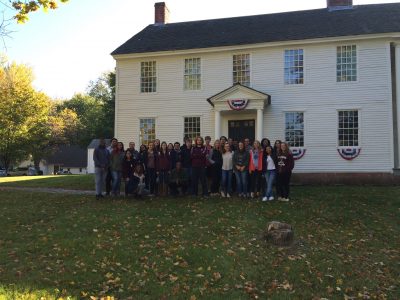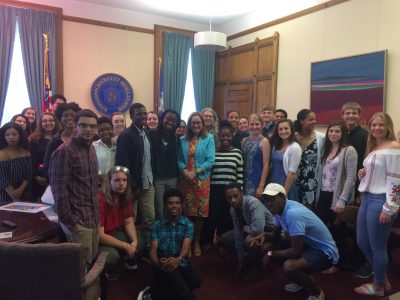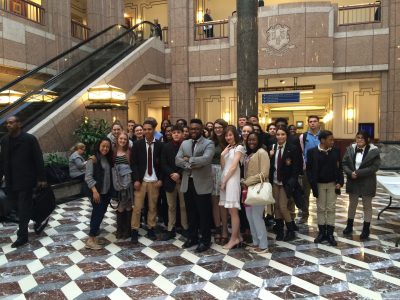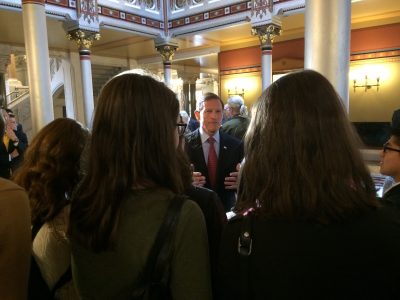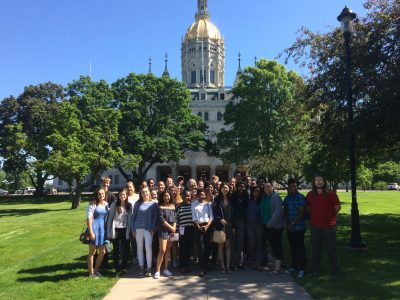 ---