By Brian A. Boecherer
Q. How long at Plainfield High School?
A. I am currently in my 14th year of teaching, all at Plainfield High School.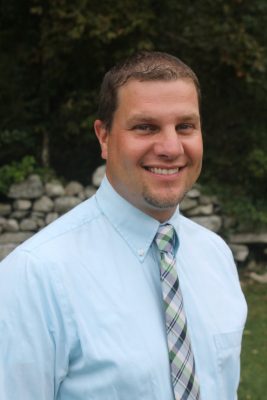 Q. Which courses do you teach?
A. I co-teach the Social Studies side of American Studies with Ms. Laura Maher who teaches the English side. I also teach Modern World History (10th grade) and a self-designed course entitled "Dialogue and Rhetoric" for grades 9-12. This immersive class is designed for students to refine public speaking skills and build empathy with one another to create a safe environment to hold meaningful dialogue conversations and deliberate compromise in a civil way. I also coach our competitive Debate Team and am the Director of the Fall Drama and Spring Musical Theater
Programs.
Q. Tell us why you got into teaching and maybe a bit about how you see your role as a teacher?
A. In 8th grade I considered being a teacher but thought it would be boring to do the "same thing every year for 30 years." As I headed to college to study international relations a year after 9/11/2001, I considered becoming a US Diplomat to bring peace and healing to our country. Above all else, though, I wanted to be a dad someday. After some soul searching during my first semester of college at the University of Maryland, I knew that "I didn't want to be a dad who was home for three weeks and traveling for three weeks." As such, history was "what made sense to me" and I ultimately wanted to "help kids now to encourage peace for our future." Teaching high school students has been a dream come true; building a rapport, earning their respect and bonding with students is the skeleton key to my job. Those moments fill me with joy. I am happy to inform my 8th grade self that teaching is "30% lessons and 70% psychology", meaning that each moment matters and if I am bored, I am not doing my job the right way. And, I am never bored.
Q. You won the Teacher of the Year Award last year at Plainfield High School and were a semi-finalist for the Connecticut Teacher of the Year this year. What would you say is core to your teaching philosophy?
A. I strive daily to build a genuine rapport with my students and faculty based on a single philosophy from Lakota Chief Crazy Horse's statement, "We do not inherit the Earth from our Ancestors; we borrow it from our Children." These connections are the foundation to building kind, empathetic, and self-confident humans who move on to help others in their lives. Upon reflection, this has been a pillar to the application of my philosophy. Our Debate Team was built from my (seemingly) bold decision to do "that" with "those kids" as some naysayers once taunted. The Team proudly competes in the annual Dr. Grace Sawyer-Jones Parliamentary Tournament held at Three Rivers Community College and consistently does well, winning the 2016 Championship. During remote learning last school year which paused the competitive Debate circuit, the Debate Team students connected to fellow students by creating "Panther Break Out Rooms" each Wednesday for eight weeks. Earning administrative approval and adding a link on the school website, Debate Captain Julia Koski reflected, "I learned about the power even single individuals have to cultivate change." In sum, empowering students to help others is the zenith of our profession. Inspired kids inspire kids.
Q. As a UConn ECE Instructor of American Studies with your co-teacher Laura Maher, what sorts of things do you want the students to walk away knowing, so when they reflect on your class 20-years from now they still know?
A. In 20 years, Laura Maher and I want the students to realize that history will most likely repeat as we profess that American history is cyclical and our Forefathers' generation battled similar issues that we negotiate today. Our aim is to engage the students to "destroy the box, build your own box, then constantly try to reshape it." Never settle and always be working to "build a more perfect union for our posterity."
Neither of us ever learned about "the present day" in depth while in our high school US history classes. Therefore, our first unit in American Studies revolves around the Obama and Trump presidencies, including, but not limited to, the impact of various social and political movements like Black Lives Matter and Blue Lives Matter. Our students are hungry to discuss and learn about these topics. They see it daily playing out on social media and in the news, and they plead to have dialogues about "things that matter." We explore varying perspectives with the students, and have had guest speakers including a professor and a police officer educate our students on how political and the media's rhetoric influences their lives/jobs and how, in the end, the "goal of the movements is to achieve the same thing." Meanwhile, the students dissect the Broadway musical Hamilton as a form of historical and modern-day commentary, casting another light on immigration, women's studies, and building "a more perfect union." In sum, as we cover American history dating back to the 1920s, we are constantly making connections to the modern era, so the students can better understand
the "cause/effect" of an era and determine for themselves to what extent progress has been achieved. Moreover, Laura and I stringently target the quality of student writing over the entire course and assess the students on their
ability to set new goals for the next paper (and to what extent they achieve their goals). Through all of this, students will hopefully appreciate their steadfast hard work, better understand the world they have been dealt, and feel confident to use their voice to impact our world for the better.
Q. We are living through some difficult social times, but Americans have lived through other difficult social times and come back stronger. Do you have any advice for the everyday person on how to play a part and make things better?
A. Americans have lived through many turbulent times, but never in the social media age. To just think that the political landscape will magically improve on its own is dangerous. Many of us have created our own worlds on our phones, liking and unliking, following the news we want and ignoring the news we may consider "fake" or disingenuous. While "yellow journalism" is not new, the "war on the truth for-profit" is cancerous, and today's generation of students are, by far, the most SKEPTICAL that I have worked with in my career. Across the board, they appreciate that they are American, but know that adults in our society could set better examples of living up to the standards and ideals of this "City upon a Hill."
To this reader, I assure you that this generation of students is watching the adults' every move on the issues that mean the most to them: #1 climate change, #2 gun rights/violence, and #3 treatment of marginalized populations. This generation of youth is also the most inclusive group in terms of accepting people for who they are. For most teens, they want adults to know that technology is their friend and their catalyst to progress. Following the news daily can bring us to a dark place, which is why it is important to focus on the things we CAN control. In the classroom, I insist, "Make our world a better place by making your world a better place." How? 1. Always help someone. You might be the only one that does. 2. Everyone you meet is struggling with something all of the time and it is normal to ask for help. 3. This world will be more peaceful if we listen to understand and act to compromise rather than remain tribal.
---