By Carissa Rutkauskas and Jessica Dunn
Background
Brian A. Boecherer began his 21-year involvement with the program as a high school student at Norwich Free Academy. The UConn English and Modern European History courses he completed while still in high school were a success, but he found his Chemistry course to be very challenging and made the tough decision to drop the course. Dropping the course wasn't a failure though: it opened the door for Brian to explore his academic interests while in high school and shaped the future of his academic career.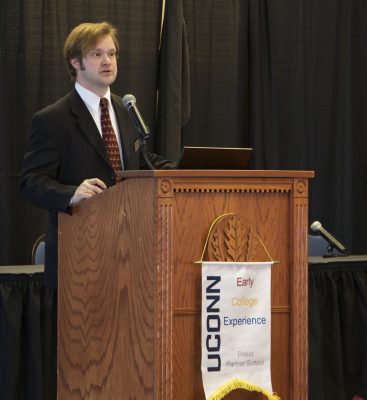 In the fall of 1999, Brian matriculated to UConn to study German and International Relations of Russian and Eastern Europe with nine UConn credits under his belt. It didn't take long for Brian to seek employment at UConn, and was hired as a student worker for the High School Co-operative Program for Superior Students, under the leadership of Michael Menard. After a period of neglect, lack of leadership and funding, the program was in a period of revitalization and needed  institutional support. With only one and a half professional support staff for the Co-op program, Menard relied heavily on Brian's work ethic and interpersonal skills and tasked him with professional staff responsibilities as a freshman. Brian took great pride in his role in the office. He studied Menard's leadership style closely with emphasis on student, faculty, and instructor engagement, he was given the opportunity to act independently and make programmatic decisions, and preserved the history of the program as he saved countless primary institutional documents from the shredder.
Brian continued a relationship with the Co-op program, working in the summers, while pursuing his first Master's Degree at the University of Toronto. Brian's experience and institutional knowledge of the program was integral, as through a retirement and promotion, there was a complete office turnover in 2004. Under the newly hired Director, he was appointed Assistant Director in 2005, a role which he held for six and a half years. Under this title, he created a development plan to reintroduce schools to the program, presented a professional development plan, and championed a name change from the High School Co-operative Program of Superior Students to UConn Early College Experience. Realizing that a strong rapport between the schools and the Co-op program needed to be strengthened to preserve true partnerships, he started a "UConn ECE road show." Brian got on the road and single handedly visited100% of partner schools in 2006, and 75% is 2007. In this time he built up strong partnerships with all high schools and made it a priority to maintain them ever since.
In 2008, with strong high school partnerships in place, Brian shifted his focus to serve the students. Brian pioneered one of the first student events, The Globalization Conference which has remained an annual event. For this event UConn ECE Students are invited to a UConn campus where they are tasked with presenting a critical review of the year's chosen topic and offer concrete solutions to the issue that are both politically and economically viable.
The Last 10 Years
In 2012, Brian became the Director for Research and Development of UConn ECE and the Associate Director of the Office of Early College Programs. During this time, he communicated the programs direct impact on departments/programs and research initiatives to University administration and engaged in research for program improvement. Brian was instrumental in UConn ECE's 2014 NACEP reaccreditation. He was awarded a NACEP grant to create a credit transfer database and also developed an advising portal, both of which are updated annually and still used today. During this time he continued to make and strengthen his connections with faculty, staff, and students.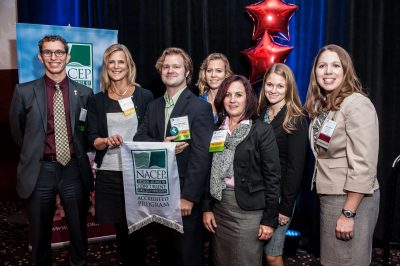 Brian became the Executive Director of the Office of Early College Programs & UConn Early College Experience in May 2015, having just completed a second master's degree in Political Science and Government. The 2016-2017 school year marked UConn ECE's first year of offering competitive student scholarships and classroom grants, as well as grants to enhance faculty coordinator-led professional development for UConn ECE Instructors. His ability to draw people together for a common goal also led to UConn ECE supporting the Connecticut High School Ethics Bowl, Connecticut History Day, and the Connecticut Science Olympiad. Brian's encouragement of others to do the same has inspired others to develop events such as the Marine Science Symposium, Chemistry Days, language immersion days and quiz bowls, and countless other events.
In 2020 he won the UConn Unsung Hero Award, awarded to a person who is continually both a real benefit to coworkers and a stable, dependable resource for the entire University and consistently goes above and beyond, without fanfare or public recognition. Eighteen of his colleagues nominated him, with sentiments of appreciation such as:
…he expanded the office and changed the ethos into a smooth running machine serving programs across the state. He favors an idea-driven environment over a task-driven one…
With over 20 years of service to the University, Brian is a true idol… he made it a personal and professional goal to open the door to higher education for all students of Connecticut…
His creativity, enthusiasm, politeness and grace always made me feel at ease. I knew that I could reach to Brian for any concern or new idea that I had.
It takes a brave person to provide that kind of autonomy to such a crew of diverse employees, but courage is only one of his noteworthy attributes.
Two thousand twenty was also the year that COVID-19 came into our lives. Brian navigated this new challenge with grace and elegance, continuously communicating with our high school partners to create a sense of stability to UConn ECE students and families in a sea of unknowns. The pandemic didn't slow Brian's receptive and innovative nature down. Over the last 21 months of remote work, we've successfully transformed the Professional Recognition Awards Ceremony from a refined, sit down dinner event to an on-line show; transitioned to a state-of-the-art student registration system eliminating an onerous 5 step process; and started a partnership with the Connecticut Department of Correction's Unified School District #1 to offer UConn courses to high school students in juvenile detention.
Impact
Brian leaves a legacy of hundreds of thousands of students who were given the opportunity to experience a college course in high school. From a program of roughly 2,000 students when he started his first professional role at UConn in 2005 to the end of 2021 with an enrollment of nearly 14,000 students, students in the state of Connecticut have had more opportunities because of him. There has been over a 40% increase in school partnerships through his tireless outreach and course offerings have more than doubled since 2005. As editor-in-chief of the bi-annual UConn ECE Magazine, he offers his insights and sparks contemplation to the UConn ECE community through his "Director's Thoughts" and eloquent pieces.
Brian has contributed to the greater field of concurrent enrollment through the publication of his chapter, Bridging the High School-College Gap: The Role of Concurrent Enrollment (Chapter 16),
and annual presentations, board membership, and volunteer service at NACEP and NEACEP. He is a concurrent enrollment advocate in the state, often presenting at legislative meetings and working with the State Department of Education. Brian has always been willing to speak to and offer advice to developing programs – whether they are within the UConn ECE realm, other CT institutions or out-of-state.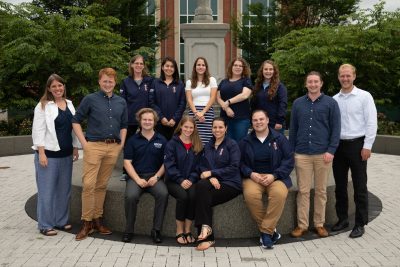 In 2020, Brian was instrumental in a state-wide initiative which finally put dual/ concurrent enrollment programs on par with Advanced Placement in the State of Connecticut. The State added dual/ concurrent program on Next Generation Accountability Index (Indicator 6), which is used to rank high schools in the State of Connecticut. In this 2019 email to UConn ECE partners, Brian advocates:
The State Department of Education has what is called the Accountability Index that gives high schools an overall rating based on the programs they provide and also the programs their students use. There are 12 indicators that form a score for the high school. Indicator 5: Preparation for Postsecondary and Career Readiness – Coursework gives a high school points for the percentage of students in grades 11 and 12 who take AP/IB and dual enrollment courses (i.e., UConn ECE). We were always part of Indicator 5. Indicator 6: Preparation for Postsecondary and Career Readiness – Exams give schools points based on the percentage of students who earn "benchmark score[s]" in SAT, ACT, AP, and IB. Indicator 6 states that it is about student performance on college/career readiness exams, and we were previously not a part of this indicator, which resulted in external pressure to choose other advanced programs instead of UConn ECE for the benefit of high school rank.
His tireless work promoting the value of college classes in high schools to the State Department of Education and encouraging UConn ECE partners to advocate their worth resulted in this major victory of dual/ concurrent enrollment programs to be counted in both Indicator 5 and Indicator 6 Accountability Index.
But Brian won't tell you any of that. Or that the above only talks about one, albeit the largest of the four programs in his purview as Executive Director of the Office of Early College Programs. He is more concerned about you, his colleague, his student, or his friend. His naturally altruistic outlook and belief that every student should have access to, and preparation for, higher education can't help but result in strong relationships to all those who meet him.
The UConn ECE community will be happy to hear that Brian will continue on this path of supporting institutions of learning to build a better society as his launches his new business, Olive Shade Higher Education Consulting, where he will support early college programming for high schools. Brian, we wish you infinite success in your exciting new endeavor!
---