By Elizabeth Kindt
Being a high school student is difficult enough without any additional pressures or major world crises going on. In March of 2020, Connecticut high schoolers experienced a sudden switch to online learning due to COVID-19, and just two months later on May 25th witnessed widespread political action in the United States in response to the murder of George Floyd. Between the uncertainty and fear brought on by the pandemic, and the injustices of our country finally coming to light, our students are facing extreme global events as they try to navigate their own personal and educational growth. To better understand the challenges our UConn ECE Students are facing during these trying times, UConn ECE staff conducted interviews with some of our students to learn more about how the online educational changes and the current political discourse has impacted them in both their education and lives at home. We asked each student two specific questions to start the conversation; "How has the current political discourse and injustice affected you? How has it affected your classes and learning both inside and outside the classroom?"
Valerie, a UConn ECE Student from Cromwell High School answered, "For the first part of the school year, I have been virtually learning from home and I must admit, it has been challenging in multiple ways." Her response to courses switching online was similar to other students, who found the transition difficult at first, but manageable towards the end of the school year. In making the most of a challenging situation, Valerie has been using her time at home to "continue to educate myself and keep updated on what has been going on in the world. I've also been making sure to keep myself in the mindset that there is always room to learn and improve." Valerie concluded, "Overall, the current political discourse and injustice has really made me see how much I can do to help the community become a better place and continue to encourage others to do so as well." Once again, her response mirrored other students who wanted to help their communities, despite setbacks as a result of the pandemic.
Another UConn ECE student, who wishes to remain anonymous, explained how the political discourse has affected their learning directly. This Manchester High School student answered, "[The political discourse] affected my classes and learning because more people are talking about it and spreading awareness to it, so more people…can take action." This was a common theme among students as many wanted to discuss what was affecting classroom learning. This student also mentioned that, "The most memorable [course] was UConn Human Rights because we were able to talk about current situations happening in the world." Many other UConn ECE Students mentioned that in courses such as UConn Human Rights, and UConn U.S. History, instructors allowed for a more open discussion about the current events going on in the U.S. since these topics were aligned with their course curricula. Students were pleased when this happened and open to a discussion about how these events affected them and those around them.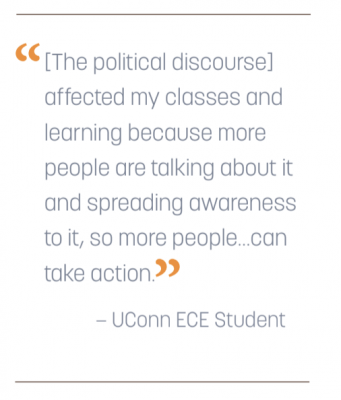 We also had the opportunity to interview Camila Lopez, a sophomore at J.M. Wright Technical High School who spoke about the political events that affected both her family and her education. When asked about how her peers were getting involved with political issues she answered, "Here in Stamford, there have been a lot of protests downtown," and continued by saying, "there are issues going on that need to be spoken about, and I'm a big fan of peaceful protesting." When asked if today's current events have also been addressed within the classroom she said, "Yes, especially since I'm taking the UConn ECE Human Rights course our teacher was like, 'yeah we're talking about this'. What I really like about it, and what a lot of students I've seen like about it, is there's more real-world subjects." She went on to say that she liked the platform students were given in class to speak their minds, especially in her UConn Human Rights course. She mentioned that, "What I like about it is the flexibility that the teacher has, like if there is a problem going on [our teacher will say], 'does anyone want to talk about it?' He'll give us the platform so we can say what we're thinking and then we start discussing it. There aren't necessarily debates or arguments about it, it's just discussing it in general which is really nice." Camila also mentioned that she and other students believe bringing up these issues in class is the first step to bringing about change. "There's a curriculum but because it's a human rights class you can kind of go off of it in different directions. You can have an assignment on race, but because there are still racial inequalities today, you can talk about what's going on today." Camila also mentioned that although students were quieter in their online classes, once a conversation was started on a controversial topic or current event, students were more willing to jump in and share their thoughts. She reminisced about being in the classroom in the beginning of the year and explained, "Once one person starts [the conversation], it kind of goes from there, and with a couple of people joining it leads to more. I feel like with online classes a lot of kids are quieter than I'm used to seeing in class." And although high school students may not be as outgoing or willing to participate over Zoom, Camila emphasized that their voices are still being heard. Towards the end of the interview, we asked Camila how the political discourse had affected her family. Her response was, "I'm Guatemalan and I love talking about politics with my dad." Once again she mentioned that talking about these issues is one of the most important things students are doing. At the end of the interview Camila reiterated how important it was to spread awareness about current topics in the class room, and to keep students involved in the conversations.
Although this school year has been an unexpected one to say the least, we found that
students are ready to get involved in both their communities and classrooms to make positive changes in the world. Despite the pandemic, many students feel more empowered and encouraged, even if it is through a computer, to speak out on the current political discourse and other issues they are passionate about. As we reflect on 2020, we are hopeful the new year will bring peace and good health to all our students and community partners, and the passion for change, dedication to taking action and raising awareness will continue to grow and their voices will be heard.

---