By Melanie Ochoa
UConn ECE has a wonderful team of 54 enthusiastic and high achieving students who have been helping support the program right from their high school. Our Ambassadors have been assisting with the marketing and administration of the program by supporting their fellow students and Site Representatives while also taking UConn ECE courses. During their one-year commitment, our Ambassadors help with the registration process and attend open houses or assemblies to present and discuss the benefits of the program. As part of their assignment, Ambassadors also share their extra- curricular experiences through pictures. Check out what our ambassadors have been doing!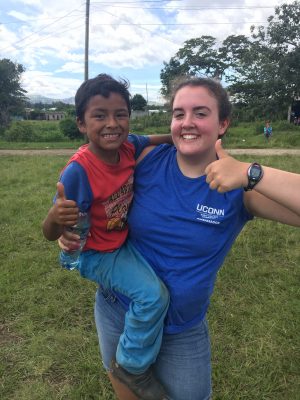 Caitlyn Malenfant
Oliver Wolcott Technical High School
"As an ECE Ambassador at Oliver Wolcott Technical High School, I assisted juniors and seniors with ECE applications and enrollment in these classes. I answered any questions they may have had, which helped make the whole process go smooth. Over the summer, I had the opportunity to visit the country of Guatemala in August of 2017 on a missions trip. In this picture, I am in Jalapa, Guatemala, which is a city in the middle of mountains. In Jalapa, my group and I served the people with food, clothing, and love. We made a huge impact on the lives of many, as shown by this little boy. He was grateful to have our presence there. This trip was truly life changing, and I would definitely go to Guatemala again."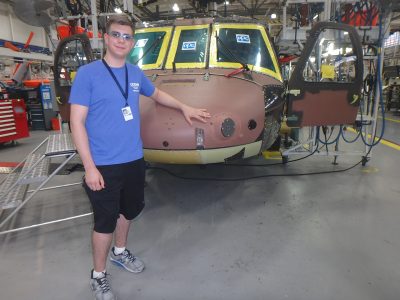 Jake McNeil
Fairhild Wheeler Interdistrict Multi-Magnet High School

My experience as an ECE cambassador has been fantastic! This role has given me plenty of opportunities to help out my fellow students at Fairchild Wheeler. I initially took on the job to help convince my friends of the benefits of challenging coursework but have since gone on to speaking to large crowds at assemblies. Over this past summer, I spent time at Sikorsky working as an intern. I only occasionally worked on the  factory floor, as I spent most of my time working upstairs in the Allocation Division. There I would help process harnesses, wires, and black boxes for installation into the helicopters you see in my pictures. The challenging  ECE coursework that I completed was said to be a significant factor in my selection as an intern.
---