By Erin Donohue
As one of 256 rising high school juniors and seniors participating in UConn's Pre-College Summer Program, Becca was able to get a true feel for life as a college student. Leaving the comfort of family and
friends, Becca was both anxious and excited about living away from home for the first time. After a swift check-in process, Becca and her parents were shown to her surprisingly spacious and air conditioned room by a member of the residential staff, where she met her program roommate, Annie. Once her parents left, the reality hit that Becca was now on her own, and as she looked at her class schedule, which included her academic area of choice, Digital Media: Game Design, each morning for 3 hours (3 hours!?) and options for daily afternoon workshops, she felt uneasy about her week ahead. Although the upbeat, friendly residential staff made students feel comfortable and welcome at student orientation, Becca was still apprehensive about her morning class.
The next morning, Becca walked and chatted with Annie on the way to the dining hall where breakfast
was being served. She was eager to get to class and learn something new. Her instructor was passionate
and enthusiastic about the material he was teaching. He immediately engaged and guided students in
the hands-on design of their own individualized game after showing them the basics. Becca could not
help but notice the small number of students in her class and felt less intimidated about asking questions
and expressing concerns about course material that she was unsure of and even the transition to learning at the college level. After lunch, all students attended the afternoon workshop, a lively game of Bafa Bafa: an interactional experience that promotes cultural diversity and awareness through role play of pretend cultures. Although she enjoyed morning class, the strangeness of engaging in role play with students she barely knew overwhelmed Becca, who was visibly upset as she left the workshop. After speaking to a faculty member, Becca was able to reframe the situation and make the best of a situation in which she felt vulnerable.
Becca would not know it at the time, but this moment of uncertainty, anxiety, and frustration was pivotal
in her transformation in maturity and confidence as the program progressed. Becca realized that she may not like some aspects of college, but she would make the best of them and be the best version of herself in situations she could control. The remainder of the week, Becca excelled in her Game Design course, and even made friends with a number of students in her class. She mingled with students from other academic areas like Sports Medicine and Creative Writing at fun, focused workshops on choosing a college major, writing a college application essay, and how to market yourself in college. She even ran through an inflatable obstacle course thanks to UConn's ROTC program. Afternoon free time was spent lounging on the lawn, playing unorganized sports, and checking out the UConn Bookstore. Evening hours were spent with program students eating ice cream at the Dairy Bar, taking walks through UConn's scenic campus, or listening to "jam sessions" with instruments that students brought from home.
Students in UConn's Pre-College Summer program have all gone through experiences similar to Becca where they have encountered small or large moments of epiphany and subsequent personal growth. This ability of the program to provide students with a genuine experience of college life is a reason for its growth from a humble beginning in 2014 by former Program Director Neal Olderman. Since 2014, the length of the program has doubled from a total of 2 to 4 weeks, and student numbers as well as number of academic areas have quadrupled thanks to Olderman's efforts. In 2014, all students attended the program for just one week, while in 2016 students enrolled for multiple weeks: 13 students attended for 2 weeks, 1 student for 3 weeks, and 1 student attended the program all 4 weeks. UConn's Pre-College Summer program also expanded its national and international reach in 2016. Students attended the program from New England states down to Florida and across the country from Colorado and California, as well as across borders from Canada, Puerto Rico, Colombia, and China, making it the most diverse group of students yet.
The success of UConn's Pre-College Summer program is truly a team effort. Ambitious undergraduate and graduate students serve as role models to program students and work as residential staff to support
and inform students regarding their questions about college life. Additionally, in the spring of 2016, Nella Quasnitschka worked alongside Neal Olderman to transition into the role of Program Director.
Quasnitschka states, "As PCS continues to grow, we are adding new academic cohorts in exciting areas of
study along with 2-hour blocks of afternoon classes on Tuesdays and Thursdays. Students will be able to
register for classes that will allow them to innovate, create, think, and get hands on experiences in classrooms, laboratories, and other buildings that you'd only find at a top University like UConn. With an increase of students registering for multiple sessions, we plan to offer more two week sessions."
It is hard to believe that UConn's Pre-College Summer Program is entering its fourth year in the summer of 2017. The 4 week program will run from the beginning of July through the beginning of August 2017, and program registration will open the end of November 2016.
For more information, please visit http://precollege-summer.uconn.edu/ or contact our office at 860-486-0149.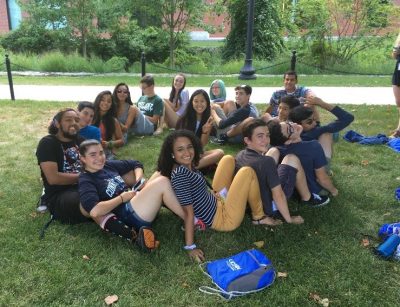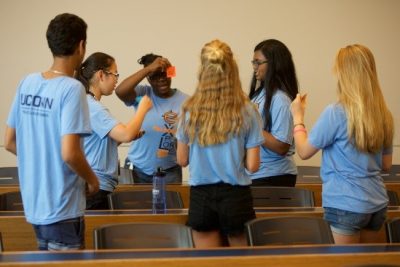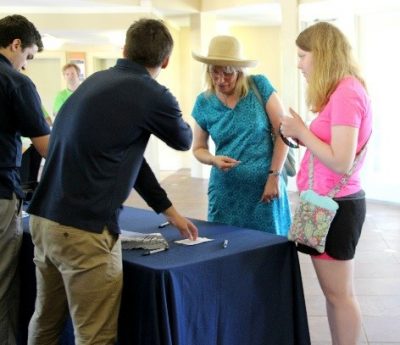 ---