by William Page and Neal Olderman
This past summer UConn hosted over 120 rising high school juniors and seniors providing them with an opportunity to explore their higher education options. During their stay, students lived on the Storrs campus in air-conditioned residential housing, shared meals at dining halls, and attended non-credit classes taught by UConn Faculty.
Choosing from 15 different academic areas, 2015 students were immersed in a college-level learning environment with other students who have similar academic interests. Small classes encouraged a one on one relationship with faculty. In addition to their academic cohorts, all students came together for skill-building workshops, including exploring the College Major Selection Process. "Students and parents report that the program answered many questions regarding planning for college and campus-life," says Program Director, Neal Olderman.
Makaila Cerrone, a Pre-College Summer student states, "…the small classroom size and opportunity to really talk and connect with the professor is not something you usually find at a big school. Being able to have this personal attention allowed us to go really in-depth on our subjects and made me realize a love I had for sociology that I never would have known about."
Pivotal to the success of the program are the Near-Peer Mentors, who also serve as residential staff. These high-achieving, college undergraduate, and graduate students are a source of support and information pertaining to college and campus life. Olderman states, "Many students enter college without a full understanding of what's expected of them. The Pre-College Summer at UConn program provides students with a taste of the challenges and rewarding experiences college-life has to offer, as well as, a strong peer group that participants can connect with long after the program ends."
Now entering its third year, UConn plans to expand this program to four one-week sessions offered during July and August of 2016.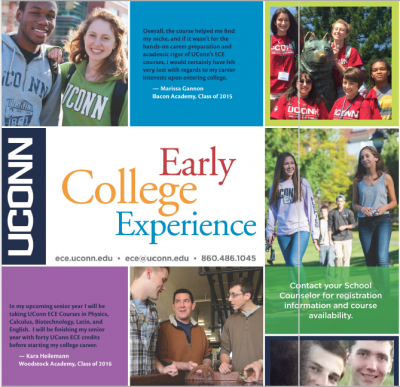 ---