By Karen Cordero, UCONN ECE ENVIRO instructor, Bolton High School
A few years ago my principal at Bolton High School came to me and asked, "Karen, how would you like to teach a UConn ECE Environmental course?" After 22 years of teaching the same ole same ole, I said "Absolutely"!
The UConn ECE workshop and preparations for the course chal- lenged me to find more meaningful, real-life experiences to include in the curriculum. Dr. Morty Ortega, the faculty coordinator of the ECE Natural Resources and the Environment program, hosted several professional development sessions and has observed me several times in the classroom. I admire his passion for the environment and desire to allow his students to experience the many different biomes that he has traveled to. When he mentioned that he was looking for a high school teacher to accompany his group of UConn students in his African Ecology course to South Africa, I never thought twice. I said "Yes, without a doubt"! Even when I had a chance to think about leaving Bolton, my family and my summer vacation time, I did not hesitate! I attended Morty's Wednesday evening African Ecology classes from January to March, and met the eighteen UConn students who were traveling to the Entabeni Re- serve in August. Morty and I discussed the possibility of bringing high school students to the re- serve if the program deemed fit for juniors and seniors. My plan was to participate in all of the Entabeni Guide Training programs just as the students did, then decide whether the program was adequate for high school students.
The trip was amazing! We camped in the middle of the Savannah, truly roughing it. We went on over forty game drives in twenty one days. We learned how to track wildlife, identify habitats, hold snakes (even cobras), and locate and identify scorpions. We got certified in CPR, first aid and Bushveld first aid and went spelunking through three amazing caves. We studied bats, birds and Bushveld vegetation. And after twenty-one absolutely awe inspiring days we decided that this is definitely an experience that is
worthy of high school juniors and seniors. I presented my trip to my students and the Bolton Community with the hopes that I can recruit up to eighteen students for a fourteen day trip of my own to
South Africa in the summer of 2014.
The UConn ECE office is thrilled to have this opportunity to work with the Entabeni Reserve and hopes the partnership can become a permanent part of the program.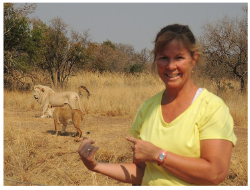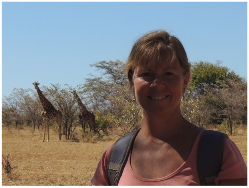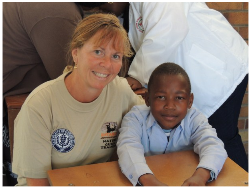 ---